John McCormack isn't one of the standout names in the history and lore of the Montreal Canadiens in the 1950's, but he had a key hand during the team's 1953 Stanley Cup run.
A Memorial Cup winner, with the St. Mike's Majors in 1945, McCormack got his break in the NHL with the Toronto Maple Leafs during the 1947-48 season. He only played three games that season, and just one the following season.
McCormack spent a pair of part-time seasons between Toronto and the minors after that. Playing 46 games, during the 1950-51 season, was enough to get his name on the Stanley Cup, despite being in Pittsburgh (AHL) during the playoffs.
His demotion had been a result of a mid-season marriage to his pregnant girlfriend. It was something that enraged Leafs owner Conn Smythe.
"I was playing with Pittsburgh and we were in Cleveland that night," McCormack said, in 2005 interview with the Hockey Hall of Fame. "We lost that night and they (Toronto) won that night with Billy (Barilko) scoring the goal. I was very pleased for him."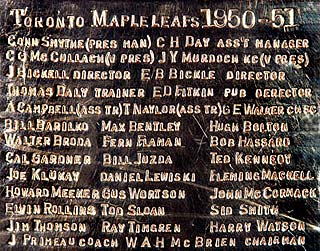 Despite the Leafs adding his name to the Cup roster, Smythe sold McCormack's rights to the rival Montreal Canadiens the following summer. One could argue for Smythe that McCormack's offensive numbers never lived to expectations he had in Jr. and in the OHA.
In Montreal, coach Dick Irvin found good use for McCormack's other talent as a defensive specialist.
In his second season with the Canadiens (1952-53), the gritty centre found himself in a pivotal role on the last game of the regular season.
Montreal would be in Detroit to face Gordie Howe and the Red Wings. Sitting on 49 goals, Howe needed just one to reach the illustrious 50-goal mark, something only the Canadiens Maurice Richard had achieved to that point.
McCormack and linemate Bert Olmstead were in charge of checking Howe. Whenever "Mr. Hockey" was on a shift, one or both of the Canadiens forwards was out there on him.
The prominent checking pairing off, as Howe had only one decent and unsuccessful scoring chance on the night. It was the closest The Red Wings legend ever came to 50 goals in his career, and it would be another eight years until Bernie Geoffrion became the NHL's second 50-goal scorer.
"The Rocket always had that competitive fire," McCormack said during brief chat with me at a recent Toronto autograph signing. "Afterwards, he came over to me and Bert and thanked me for not letting Howe get to 50."
The Canadiens would go on to win the Stanley Cup, with McCormack seeing action in all seven semi-final games and the first two of the Finals.
John McCormack with the Stanley Cup on his 80th Birthday in 2005 –Photo: Walt Neubrand HHOF
He would have one final season with Montreal, while spending 16 games with their AHL affiliate in Buffalo, and was in the bizarre seven game Stanley Cup Final against Detroit.
"Let's see, 1954," McCormack said as he began to sign a puck.
"Oh no sir," I said. "You won with Montreal in '53. You might have won in '54, but Doug Harvey "threw it" into your net in overtime."
"That's right," he replied with a smile. "Thanks for re-educating me." I failed to note he signed his Leafs number (20) instead of the No. 17 he wore in Montreal.
In the summer of 1954. McCormack was left open to the Intra-League draft, and would play one last NHL season with the Chicago Blackhawks. He retired from hockey, after a season in the WHL with his hometown Edmonton Flyers,at age 30.
Article Sources
Montreal Gazette – March 23, 1953
Hockey Hall of Fame - "Stanley Cup Journal #21"
Legends of Hockey – Player Profile